Chapter NEWS
Earthfest 2017 05.20.17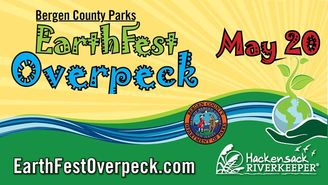 ​On Saturday, May 20th, EJTU participated in Earthfest 2017 at Overpeck Park in Ridgefield Park. For several years we have provided support for the fishing event sponsored by Ramsey Outdoors. Ramsey provides equipment and bait and we provide the labor. After a slow start due to threatening weather, kids converged on the fishing dock for several hours. A variety of fish including catfish, largemouth bass, yellow perch, blue gill and pumpkinseed sunfish were caught by the kids. This was a vast improvement from the first year when only one fish was caught. Each participant left with one of our new "I went fishing with East Jersey Trout Unlimited" buttons which were proudly accepted and worn by the kids. The constant flow of kids was a bit challenging at times because we were slightly understaffed but the kids were patient and cooperative. Thank you Tom and Bruce.
---
Broadhead Creek Fishing Trip 05.20.17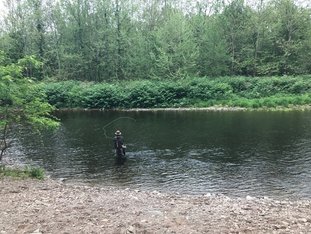 ​East Jersey Trout Unlimited had its second annual fly fishing trip to Broadhead Creek in East Stroudsburg PA. The trip was well attended by by ten chapter members. We met up at Besecker's Diner for a quick breakfast prior to make our fishing plans. Several members of the local Broadhead Creek Chapter of TU joined us as well and showed us a few new spots to fish. The fishing action was generally good with almost all members getting a fish or two. Dry flies were on the menu for hungry rainbows and browns.
---
Catskills Cast and Blast 04.29.17-04.30.17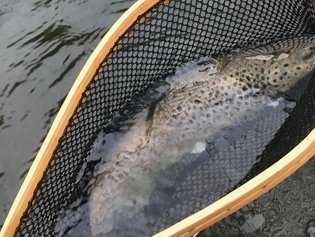 EJTU just held it's 3rd Annual Catskills Cast and Blast. Thanks to Ken Barile for organizing the trip. Members fished the storied Beaverkill and Willowemoc in Roscoe, NY. The weather was spotty, but we had an excellent Grannom Caddis hatch and some Hendricksons as well. Many brown trout were caught on dry flies and members had a great time shooting sporting clays on Sunday.
---
Project Healing Waters 04.08.17

As opening day of trout season approached, disabled veterans and volunteers from the Northeast Jersey Unit of Project Healing Waters Fly Fishing were exploring some fishing options. Our concern was trying to take a dozen or so vets with varying abilities to fish on one of the potentially overcrowded streams in the area.

We were relieved when NJ Fish & Wildlife announced the opportunity for disabled vets from PHWFF to spend opening day fishing the education pond at the Pequest Hatchery. It turned out to be an outstanding event. Disabled vets and their family members and volunteers from four PHWFF units in New Jersey attended. We enjoyed a light breakfast at the main building and then proceeded to the pond. The veterans, their spouses and children, enjoyed several hours of catching cooperative rainbow trout, several of which were taken home to be enjoyed again at dinner. While the weather was a little cold and windy, nearly everyone landed a fish, some of which were in the 2 – 3 pound class. It was particularly rewarding to watch the dads relating to their kids. One youngster, whom I guess to be 6 or 7, flashed the biggest smile each time she caught a trout. She certainly enjoyed her day and made her father proud. All of us who participated in the event offer our thanks to the Pequest staff for their extraordinary efforts to make it such an enjoyable and successful day. It was truly a special opening day for some very special veterans.

PHWFF Northeast Jersey meets on the third Wednesday of each month from 6:30 to 8:30PM at the VFW, 28 Faner Road, Midland Park, NJ. Any disabled veteran is invited to attend. EJTU has partnered with PHWFF and our members constitute the majority of its volunteers.

---
EJTU Woodchip Spreading 03.25.17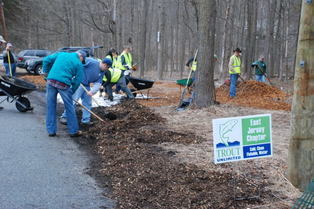 EJTU just had it's annual parking lot cleanup and woodchip spreading on March 25th 2017 at Glen Gray Bridge on the Ramapo River. The project was well attended by approximately 20 members. Woodchips were provided by the Mahwah DPW. Our volunteers spent the morning repairing the area, filling holes and spreading woodchips, so it is suitable for anglers to park there and not interfere with neighborhood traffic by parking on the street. The parking lot is now ready for another year of angling!
---
Annual Chapter Banquet 03.11.17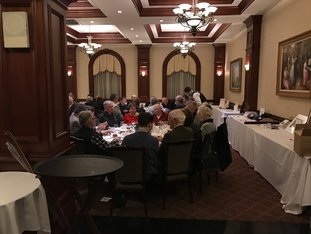 Easy Jersey Trout unlimited recently concluded it's annual banquet. The banquet was held at Biagio's in Paramus NJ and featured a coacktail hour with appetizers, salad, pasta, main course and dessert. The banquet drew almost 100 people. This banquet is the chapter's main fundraiser for the year. A variety of angling and non-angling prizes were donated to the chapter and raffled off. Good food and company were enjoyed by all.
---