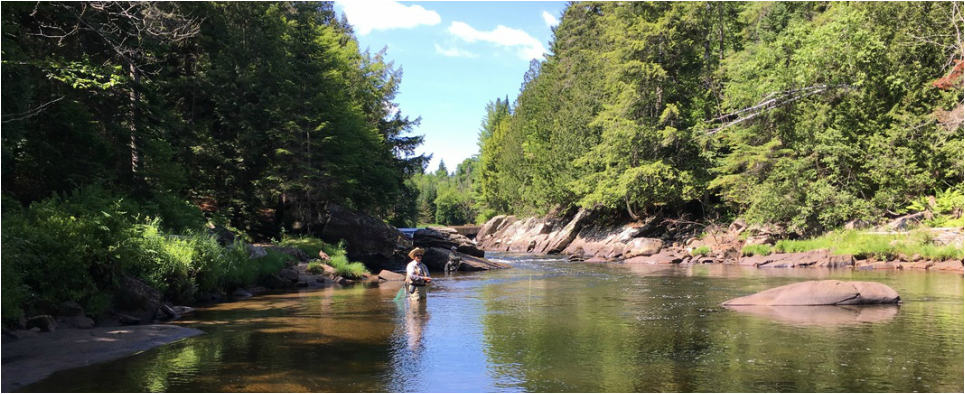 Fly Fishing Tips And Tricks From EJTU
Use a Rubber Landing Net Bag

Landing nets have come along way over the past few years. Most new landing nets come with a rubber bag that has several advantages over old fashioned nylon net bags. One such advantage is that fly hooks rarely get stuck in them and if they do they are much easier to get out. Nets with rubber bags are not as easily caught in branches etc. while walking alongside a stream. Most importantly these new style are better for fish. The rubber net bag is softer and slicker. The rubber does not cut into fish, damage eyes or other sensitive parts of fish bodies as easily as the old style knit nylon bags do. Rubber landing nets also do not remove as much of a trout's protective slime coat as well. These new landing nets are now easily found from manufacturers such as Brodin, Orvis, Fishpond and LL Bean. If you have a sentimental attachment to your old landing net you can purchase a rubber replacement bag and easily replace your old nylon bag. All that is needed is some dacron backing and a needle. The entire process takes about 15 minutes. So go ahead and ditch that old fashioned landing net with a nylon bag and treat yourself and your quarry to a safer landing net with a rubber net bag.
Wading Safety

A wading belt, a wading staff and studded wading boots are the three most important items to have for safe wading. Most waders from reputable manufacturers these days come with a wading belt. If you do not have one please think of obtaining one. A wading belt will help keep water out of your waders if you should happen to slip in. It will also help to trap air in your waders, which should help to you float slightly better. A wading staff might save your life. Tackle manufacturers sell collapsible ones that fold up nice and can be stored out of the way on your wading belt, but a sturdy wooden one or hiking trekking pole are OK as well. Not only will a wading staff help steady you while wading and prevent you from slipping, by creating a "third leg", it can also help you safely climb down banks when approaching and getting into a river. A wading staff will also help you get out of a river if you should go for an unintended swim. Studded wading boots are also really important. Rubber wading boots without studs can be very slippery. Metal studs can be added to felt wading boots as well. These studs help cut through slim and mud and safely grip onto rocks. The studs do wear down over time so you should check them often to see if they need to be replaced.
Pharmacy Fly Tying Tools And Materials

Try checking out your local pharmacy to find some great fly tying tools and materials! Moustache combs and toothbrushes are excellent for brushing out dubbing, fur and other materials. Floss threaders work well for threading bobbins. Plastic weekly pill cases are also great for keeping and organizing hooks and beadheads. Don't forget to check out the nail polish aisle as well. Sally Hansen products such as hard as nails make excellent head cement substitutes and the various colors of nail polish make awesome paints. Regular nail clippers work just about as well as nippers that can be purchased in a fly shop.
Wet Your Hands

If you are planning on holding a trout for a picture (try do this quickly) or for hook removal purposes please wet your hands first. All you have to do is simply dip your hands in the river or lake you are fishing. This easy and quick habit, will help protect a trout's skin and protective coating from you hands. It helps maximize a trout's ability to recover and survive after being released.
Does Your Dry Fly Twist Up Your Leader?

Sometimes when a dry fly is cast it will spin around and twist your tippet. If you ever run into this situation, either switch your dry fly to a smaller size or increase the size of your tippet. This should help prevent this problem.
Please Fish Barbless Hooks

Although you may ultimately lose a few more fish, fishing a barbless hook really is better for the fish. Backing a barbless hook our of fishes snout or jaw is much more easy when using a barbless hook. This allows you to get fish back in the water sooner, which is critical for the survival of a released fish. A barbless hook will not rip the fish's flesh as much as a barbed hook during removal and therefore will allow for quicker healing.

Barbless hooks are also easier to remove from an angler's body or clothes and they allow an angler to more easily hook a fish. If your hooks or flies have barbs, they can easily be crushed down with a pair of hemostats or small pliers.
Dropped Hooks on the Floor?

Have you ever dropped a bunch of flies or hooks on the ground? If you tie flies you most likely have dropped a large amount of hooks on the floor at least once. Here is a tip to help find all of those hooks or flies that are scattered on the floor, so they do not wind up in your foot. Use a strong magnet to find dropped hooks. Most hooks are light enough that they will easily be picked up by a strong magnet. This works well on all sorts of surfaces such as tile wood and carpet.
Nylon Fishing Line Does Not Last Forever

The strength of nylon tippet and leaders decreases over time. Some manufacturers of nylon line attach an expiration date to the spool to let you know when it should be replaced. Some anglers discard all nylon line at the end of fishing season and purchase new line every year. Sunlight is especially destructive to nylon line, so at a minimum make sure to keep your nylon monofilament stored in a dark area away from sunlight. If you are still using a spool of 6x tippet material that is several years old, you should consider replacing it. You don't want to lose the fish of a lifetime because you tried to save three dollars worth of tippet material on an old spool.
Stretch Out Your Fly Line

This little trick can help you cast just a bit further, by reducing friction during your cast. Before you get to the river to fish stretch out your fly line. Your fly line has memory and will retain curls in it after having been stored on a reel for a long time. Begin by simply pulling fly line off of your reel and pulling it tightly between your two hands. After properly stretching your line then reel it back up and head to the water to fish. Stretching your fly line is especially important if your fly line has been wound up on your reel for long stretches of time and it is a good idea to do this each year after winter.
Try A Tippet Ring

A tippet ring is a very small metal ring that is easy to use and can is very helpful. First, unfurl a new leader and cut the tippet portion of your leader off. The tippet length of your leader various depending upon the leader length and taper, but cutting off approximately 16 inches is a good place to start. Next, take one tippet ring out of the pack and clinch knot it to the end of your newly shortened leader. Lastly, clinch knot your tippet that was cut off of your leader on the opposite side of the tippet ring. It is just that easy!

Normally when you replace your tippet on your leader you either use a blood knot or surgeons knot to tie the two pieces of line together. Each time you do this you wind up cutting of a small portion of your leader. One of the benefits of using a tippet ring, is that once you have used up your entire tippet (from changing flies) you simply clinch knot on a new replacement piece of tippet, without having to cut off any of your leader. Your leader will last much longer. You will also easily know that your tippet needs to be replaced when you get too close to the tippet ring. Tippet rings can also be used to tie multiple lines off the end of your leader if you are fishing two nymphs.

Tippet rings come in packs of around 20 rings and in various sizes. A 2mm sized tippet ring is appropriate for trout fishing and a slightly larger size 3mm tippet ring works well for steelhead angling. Give them a try. You won't regret it.
Check For Wind Knots

A "wind knot" is a simple over hand knot that can appear in your tippet or leader from time to time. This knot can be caused by a gust of wind, but is more likely a result of improper casting. A wind knot will greatly reduce the strength of your tipper or leader. If you do not believe us, the next time you get a "wind knot" test it's strength by pulling on your leader or tippet on both sides of the knot. Your line will break at the location of the knot. Always check your line for a "wind knot" and if you find one, take a minute or two to cut it out and rebuild your leader. You do not want to loose the fish of a lifetime because of one of these silly knots.
Check River Flows

USGS publishes data for many rivers and streams across the country that is readily available online. The information is provided in a graph format. It will tell you whether the river you intend to fish is rising or falling. It will also tell you if rivers are above or below the typical flow of prior years. By checking river flows, you can determine if rivers are too high to wade, too low to fish or just right. River flows can also help you pick out fly patterns for an upcoming fishing adventure. Always check river flows before fishing, just like like you would check the weather forecast.
Avoid Fishing Lead Tackle

Lead sinkers and weight are inexpensive and work really well for getting your fly or nymph in the water down deep quickly. However, if you can, try to avoid fishing with lead. Loons swallow small pebbles to help aid with digestion of food. Ingested lead shot, sinkers, jigs and other pieces of tackle cause lead poisoning and are a major adult loon fatality source in northern new England states like New Hampshire. Many states have banned the sale of certain types of lead fishing tackle as well. Other alternatives such a tin and bismuth are far less toxic in comparison to lead and are readily available. Lead is also toxic to humans. We no longer put it in our gasoline or paint. Why would we put it in our water.
Write Your Name In Your Fly Box

Anglers often accidentally drop equipment and tackle rivers. We use zingers, clips and cords to secure many of these items to our packs and vests to protect them from falling in the body of water we are fishing. Most fly boxes do not have a method of attachment for safekeeping. However, many, if not most fly boxes float and when dropped in moving water can quickly float away and out of reach. Losing a fly box can be an expensive and heartbreaking event especially if the angler that has spent countless hours carefully tying all of the flies contained within the box. If you write your name and phone number inside your fly box and if it is found, you might have it returned to you by the person who finds it.
A Better Hook Keeper

Although most fly rods come with a hook keeper, there is a better method to store your fly on a rod for later use or while walking. Instead of hooking your fly on the hook keeper try this. Hook your fly on one of the upper fly rod guides. After doing so, you will have a loop of fly line and leader left. Take this loop and place it around your fly reel adjacent to the the butt of your fly rod. Then finish by reeling in any excess line in order to tightly secure your line in place. This works great when you have multiple flies on as well. Here is an added bonus! When you unhook your fly from the guide, you should have your entire leader and some of your fly line already free from the reel and guides. You will not have to pull your leader out to get to your fly line.
Wear Muted Colors

When fly fishing, try to avoid wearing brightly colored clothing such as red, orange and purple. Also stay away from neon or flashy items as well. Instead, opt for muted colors like tans, greens, grays, browns or if salt water fly fishing light blue. Camo patterns also work well. These subtle colors tend to blend in with sky, trees and the river. By doing so, you will keep your presence to fish hidden and it should help you catch more fish. The next time you are in a sporting goods store take notice of what colors are usually used for fishing clothing such as waders and vests. They are typically green, gray or tan for good reason.
Custom Dubbing Blends

If you tie flies, you might find yourself limited by commercially available types of dubbing and may want to create your own custom dubbing blends. An easy way to blend multiple dubbing materials together is with a regular coffee bean grinder. Just measure out the correct proportions of the various types of materials you would like to blend together and place them in the coffee grinder. After, turn on your coffee grinder and give the materials a few quick pulses of grinding to blend them together. Small ziploc storage bags can purchased at craft stores to store your custom blends in. All sorts or interesting blends can be made with various types of natural and synthetic materials.
Steam Your Dry Flies

If you put too many dry flies together in one compartment in a fly box, the wings and hackle can get bent and crooked. Sometimes bent and crooked wings can happen from flies being left in a fly box for a long time. Not only do these flies look bad, they often will not land on the water correctly when cast. You can bring your dry flies back to life and realign crooked or bent wings and hackle by steaming them. Just bring a tea kettle of water to a rolling boil. Hold your dry fly with a pair of forceps or long tweezers and place it in the steam coming out of the tea kettle. Do this for a few seconds while slowly rotating the fly in the steam and your dry flies will be as good as new. Just be careful not to get your fingers in the steam.
Sally Hansen's Hard as Nails

Tired of paying four to five dollars for a bottle of fly tying head cement? Try using a bottle of clear Sally Hansen's Hard as Nails. This nail polish can be found in the cosmetics aisle at most drug stores and major retailers. A bottle usually costs around two dollars and it comes with a brush applicator. It works just as good as well as traditional fly tying head cement. Colored versions of Sally Hansen's Hard as Nails work well as a paint for fly tying purposes as well!
Is Your Fish Struggling While You Are Trying To Release It?

When you catch a trout, and have him in the net it may be difficult to remove the hook as the fish is thrashing for it's life. If you turn the fish upside down, so that it's belly is facing up, it will stop wiggling and it will be easier to remove the hook.

Wet Your Knots

Before you finish tightening or seating your knot, wet it with saliva, or preferably water from the stream you are fishing. By wetting your knots you decrease the amount a friction during the tightening process. Your knots will seat more easily and will likely be stronger.
Keep A Fishing Journal

Maintaining a personal fishing journal can help make you a better fisherman. After a fishing trip, take a few minutes to write down some basic information, such as where you fished, what the water temperature was and if any hatches were occurring. A fishing journal can be as simple or complex as you would like it to be. Not only will it help you remember what has worked for you in the past, it will also serve as a great keepsake and memento of your fishing adventures. If you plan on taking notes while on the river, use a pencil, because ink will run if it gets wet.
Let Your Fly Rod and Reel Dry

After a fishing trip, remove your fly rod from it's tube and let it dry out. It is good for the cork and metal on a graphite or fiberglass rod and doing it is even more important for a bamboo rod. The best way to let your rod dry out is to remove it from the rod tube and sock and put it in a safe place to dry for a few days. Take your reel out of it's case and let it dry out as well.
Use DEET Free Insect Repellants When fishing

Insect repellant is a must when fly fishing. It protects you from mosquitos, no-see-ums, black flies and most importantly ticks. But try to avoid using DEET based insect repellants when fly fishing. DEET dissolves many types of plastics including the plastic coasting on your floating fly line. Try using a non DEET based fly replant such as Natrapel. If you must use a DEET based repellant make sure you do not get any on hands or your fly line.

Avoid Fishing For Trout In Water Over 70 Degrees

Warm water holds less dissolved oxygen than cold water. Even with proper catch and realize techniques, fish can die after being being released when water temperatures are over 70 Degrees, due to this lack of oxygen. If the water is too hot, fish for warm water or salt water species such as bass or fluke instead of trout.
Always Test Your Knots

Always test your knots after putting on a new fly or adding more tippet to your leader. Ensuring your knots are properly tied will save you flies and help you land more fish. Nothing is worse than leaving a fly in trout's jaw, because of a poorly tied and untested knot.
Make Your Own Fly Rod Tube

Making your own custom fly rod tube is easy. The tools you will need are a tape measure, hacksaw and magic marker. The materials required are PVC tubing, a PVC end cap and a PVC clean out cap. You will also need a small can of PVC cement and PVC primer. All of these materials are easily found at your local home improvement store. Measure your fly rod and cut the PVC tubing to the proper length with the hacksaw. Next apply a coat of primer to both the PVC tube and PVC end cap, followed by a coat of cement. Place the cut to size PVC tube into the end cap and give it a quarter turn. This will properly join the two components together. Repeat the same process with the clean out on the other end of the PVC tube. Make sure not to get any cement on the threads of the clean out and let your new rod tube air dry outside. The materials to make this rod tube are very inexpensive and the entire process takes about ten minutes. Your rod tube will be extremely strong and is a fraction of the cost of a new store bought rod tube.
Finding Wader Leaks

As long as you know the general area that is leaking this works like a charm. You will need Isopropyl Rubbing Alcohol, cotton balls, and a sharpie marker. Put the Isopropyl Rubbing alcohol on a cotton ball or small piece of a rag and thoroughly wet the INSIDE of the waders in the area where the leak is suspected to be. Then look at the outside of the waders and you will see every pinhole show up as a tiny dark (wet) spot. The alcohol will dry quickly, so use a sharpie to mark each hole before it dries.
Consider Cleaning Your Fly Line

Try cleaning your fly line several times each season. This can either be accomplished with a line cleaning kit that can be purchased or with dish detergent and warm water. To clean your fly line with dish detergent, simply mix a small amount of a non harsh dish detergent, like palmolive in a bucket of warm tap water. After soaking your fly line, lightly pull your fly line through a cloth rag or paper towel. You will be amazed at the amount of dirt and grime that will come off your fly line. This will help you cast further, allow your line to float better and can extend the life of your fly line.
Preserving Fly Specimens From The Stream

If you would like to preserve fly specimens from the stream for later reference it is easy. Purchase small glass containers with screw on lids and fill them with ethyl alcohol prior to going fishing. Ethyl alcohol can be purchased from almost any drug store. Just put the mayfly, caddis or stonefly specimens you have collected in the jar and they will safely be preserved for years to come.
How to Remove a Hook

Removing a hook embedded over the barb, but not back out through the skin, is relatively easy. First make a loop about 6" long, in strong line and pass it over the eye of the hook, and then up to the top of the bend of the hook. Then push firmly down on the eye of the hook so the eye of the hook touches the skin. Finally with a sudden, strong yank on the line loop, pull up and away from the hook-eye. The hook should come out the way it went in, and because it will curve out the same way it went in the barb should not catch. It is very important to follow 'Step 1' to the letter if pain and discomfort is to be avoided. Most importantly the loop of line must be at the top of the hook bend, and the pull must be up and away. Way too many articles on this method advise having the line at the back of the bend, and pulling straight back - this will only result in the barb catching and causing pain.
​Stringing Up A Fly Rod

When stringing up your fly rod, bend your fly line end into a loop prior to passing the loop through each guide. If you accidentally let go of your fly line, it will not fall all the way through all of the guides.
Loop Knots Are Great For Flies!

Learn to tie a Non-Slip Mono Loop. This knot / loop was made famous by Lefty Kreh. It is a very strong loop when tied properly and has almost 100% of the breaking strength of your line. By using a loop connection from your line to a streamer or nymph, you will give your fly more life like actions and movement while in the water. This can help catch additional fish.
Cheap Fly Reel Case

If you are in the market for a low cost fly reel case, try a brand new regular cotton foot sock.
Preventing Sets In Bamboo Rods

Here is an easy trick to prevent putting sets in a bamboo fly rod. After hooking a fish, rotate your fly rod in your hand so the guides are facing upward, while fighting it. This will help prevent sets in a bamboo rod.
Make Your Own Fly Flotant

You can make your own dry fly flotant with Ronsonol lighter fluid and Albolene make up remover. Simply mix the two components together in a three to one ratio and keep it in a small air tight plastic bottle for use on the stream. This flotant is easy to make, cost effective, and your flies will float like a cork. Just don't smoke or have any open flames near it!
Fly Rod Stuck Together?

If your graphite fly rod is tightly stuck together after a day of fishing and you cannot get two segments apart, try using rubber gloves or a rubber jar opener instead of your bare hands. The rubber will give you a better grip on the graphite while twisting the two pieces apart.
Don't Put Wet Flies In Your Fly Box

Flies need adequate time to dry out. Wet flies placed and left in a fly box will rust. Try using a foam patch that clips onto your fishing vest or shirt instead of putting wet flies back in your fly box. This patch will allow the flies to completely dry. As an added bonus, you will know which patterns you have used recently on the water.
Use A Hook Sharpening Hone

Flies that have been used can easily become dull from getting stuck in trees, hitting rocks or hopefully from hooking trout. A few quick passes on a hook sharpening hone will resharpen your fly and increase the amount of fish you hook.